Non-Resident Distinguished Professor
History of Religion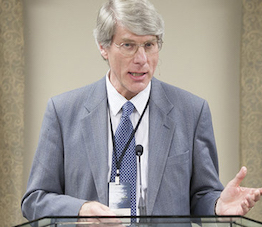 David Bebbington is Emeritus Professor of History at the University of Stirling in Scotland. An undergraduate at Jesus College, Cambridge (1968-71), he began his doctoral studies there (1971-73) before becoming a research fellow of Fitzwilliam College, Cambridge (1973-76). From 1976 he taught at the University of Stirling, where from 1999 to 2019 he was Professor of History. He has also taught at the University of Alabama, Birmingham, at Regent College, Vancouver, at Notre Dame University, Indiana, at the University of Pretoria, South Africa, and on many occasions as Visiting Distinguished Professor of History at Baylor University, Texas. He has served as President of the Ecclesiastical History Society (2006-07) and as President of the Scottish Church History Society (2016-20). In 2016 he was elected a Fellow of the Royal Society of Edinburgh. He acts as Non-Resident Director of the ISR's Evangelical Studies Program.
His principal research interests are in the history of religion, politics, ideas and society in Britain from the eighteenth to the twentieth century and in the history of the global Evangelical movement.  His books include Evangelicalism in Modern Britain: A History from the 1730s to the 1980s (1989), Victorian Nonconformity (1992), William Ewart Gladstone: Faith and Politics in Victorian Britain (1993), Holiness in Nineteenth-Century England (2000), The Mind of Gladstone: Religion, Homer and Politics (2004), The Dominance of Evangelicalism: The Age of Spurgeon and Moody (2005), Victorian Religious Revivals: Culture and Piety in Local and Global Contexts (2012), Baptists through the Centuries: A History of a Global People (2nd edn, 2018),Patterns in History: A Christian Perspective on Historical Thought (4th edn, 2018) and The Evangelical Quadrilateral (2021).