When:
March 5, 2019 @ 7:00 pm – 9:00 pm
2019-03-05T19:00:00-06:00
2019-03-05T21:00:00-06:00
Where:
Paul Powell Chapel, Truett Seminary, Baylor University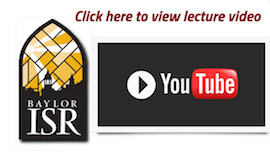 Ross Douthat of The New York Times will join Dr. Alan Jacobs, Baylor Distinguished Professor of Humanities as well as Distinguished Senior Fellow at the Institute for Studies of Religion for a conversation.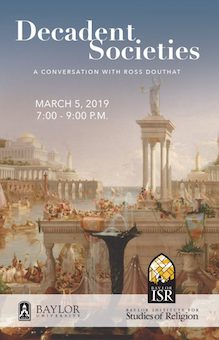 We have heard that ancient Rome grew decadent, or that Byzantium did, or that Weimar Germany did. But what does it mean to call a society "decadent"? And is America today in danger of decadence? Ross Douthat of the New York Times and Baylor's Alan Jacobs will discuss these questions.
Ross Douthat joined The New York Times as an Op-Ed columnist in April 2009. His column appears every Tuesday and Sunday. Previously, he was a senior editor at The Atlantic and a blogger for theatlantic.com.
He is the author of To Change the Church: Pope Francis and the Future of Catholicism (2018), Bad Religion: How We Became a Nation of Heretics (2012), Privilege: Harvard and the Education of the Ruling Class (2005) and a co-author, with Reihan Salam, of Grand New Party: How Republicans Can Win the Working Class and Save the American Dream (2008). He is the film critic for National Review and a Writer-in-Residence at the Elm Institute. He co-hosts the op-ed page's podcast, The Argument, with Michelle Goldberg and David Leonhardt.
The Baylor bookstore will be on site to sell books, and there will be a book signing immediately following the event.