Resident Scholar
Baylor University
Homepage
Email Sarah-Jane Murray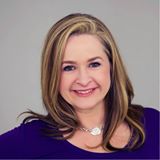 At 12 years old, Sarah-Jane was drawn to 16th-c. French philosopher Michel de Montaigne's ideals for education: to form well-made, rather than well-filled heads. Montaigne's Essays inspired a quest to cultivate critical thinking and read primary sources: she learned Latin and Ancient Greek in order to read some of his favorite sources of critical thinking like Cicero, Seneca, Plato, and Aristotle.
This commitment to primary sources, rational inquiry, and a quest for human flourishing led her — instead of to law school, as once intended — to a PhD at Princeton in the Department of Romance Languages and Literatures, with a primary emphasis in Medieval & Renaissance Studies and keen attention to original, primary sources (especially manuscripts). During this time Sarah-Jane also spent extensive time abroad, studying manuscript culture, linguistics, and digital humanities at the Ecole Normale Supérieure Lettres et Sciences Humaines under the direction of Prof. Christiane Marchello-Nizia. She has worked on primary sources in special collections across Europe and the US, including the French National Library (BNF), British Museum & British Library, Vatican, Patrimonio Nacional in Spain (Madrid Royal Palace, Escorial, Santiago de Compostela cathedral), Royal Library of Denmark in Copenhagen and Brussels, York Minster, Trinity College Dublin, Pierpont Morgan, Geneva, Bern Burgerbibliothek, Lyon & Rouen municipal libraries. And from 1998-2003, she served as Associate Director (1998-2003) then Director (2003-2006) of the (digital humanities) Princeton Charrette Project, founded by Prof. Karl D. Uitti.
This period of intellectual inquiry resulted in her first book, From Plato to Lancelot: A Preface to Chretien de Troyes (Syracuse UP, 2018), and eventually led to her directing the decade-long translation project for the medieval French Ovide Moralisé (2012-2023), in collaboration with longtime friend and colleague Prof. Matthieu Boyd (2016-2023). The translation, supported by a translations & editions grant from the National Endowment of the Humanities (NEH) and inspired by conversations with Prof. Robert Fagles, was published in 3 volumes by D.S. Brewer (Boydell & Brewer) in 2023. One of the most important texts of the Middle Ages, the OM fuses literature, scholastic theology, and philosophy in the pursuit of understanding the human being's place in creation and exerted notable influence across many other fields, including art history and even Shakespeare.
Civic education has for a long time been a foundation of liberal education — from the Latin root "liber," meaning 'free.' Guided by the belief that knowledge of the foundations of a free society is needed more than ever, and inspired by an upper-level seminar she taught with Prof. Marie Helene Huet at Princeton in Literature & Politics, Sarah-Jane came to the Honors College at Baylor University and the Great Texts Program to help her students cultivate "well-formed" minds, pursue wisdom, and flourish as whole human beings.
By asking big questions about what it means to be human, she believes readers of interdisciplinary "Great Texts" have a crucial role to play in preserving rational inquiry and critical thinking and improving democracy and human flourishing in a world too often dominated by political polarization, the decline of civility, and the weakening of good-faith dialogue, aspects of our modern world that increasingly weaken society and threaten core institutions.
By engaging in the "Great Conversation" across time and space with her students, a key theme of Sarah-Jane's ongoing research & creative projects emerged: the role storytelling has in shaping us as human beings, but also in shaping and influencing society. These questions questions eventually led her from medieval manuscripts into the world of Film & Digital Media, and to exploring how fair, balanced, and truthful storytelling can bolster the Fourth Estate.
An EMMY®-nominated writer and producer (for her 2014 feature-length documentary "Primary Concern" on the US healthcare system), Sarah-Jane also teaches screenwriting and documentary filmmaking in Baylor's Department of Film & Digital Media. Most notably, she pioneered the course (and workshop) in Filmmaking for Social Change, in which students learn the art of social-impact documentary within a guiding framework of civic and democratic engagement, informed by key founding documents like the Constitution & Bill of Rights, and discussions about freedom of the press, as well as core philosophical and ethical principles about storytelling, beginning with Plato and Aristotle and spanning down to our own times and modern neuroscience findings.
Her body of collaborative work has played at major international film festivals and has been distributed by PBS, LinkTV, Amazon, and Netflix. At present, she in post-production on her feature-length directorial debut (currently in post-production). Sarah-Jane's writing, producing, and directing for short formats has also been recognized with over twenty international creative awards, including the Silver TELLY® for excellence in video and television, and Communicator Awards® of Excellence and Distinction from the Academy of Interactive & Visual Arts. In 2018, she was selected as one of the #50Women[who]Can change the media & entertainment industries and in 2020 she was awarded the "Film in Action" achievement award from the Ouray International Film Festival. She is a founding advisory council member of BEL (Bridge Entertainment Labs) in Hollywood, dedicated to transforming the way Americans see and engage with each other across political divides, and a resident scholar of the Institute for the Study of Religion (ISR).
In the summer of 2023, Sarah-Jane's quest to break down access to engaging with the Great Texts while inspiring awe, wonder, and critical thinking led to the founding of her edumedia project, The Greats Story Lab (https://www.youtube.com/@GreatsStoryLab). Because the stories we tell (and consume) shape and inform the world we Iive in, how we see and interact with each other, how we flourish, and where we go next.
Selected Publications
Books & Articles
The Medieval French Ovide Moralisé: An English Translation. 3 vols. Ed. & trans. by K. Sarah-Jane Murray & Matthieu Boyd. Cambridge, UK: D.S. Brewer, 2023.
Basics of Story Design: Twenty Steps to an Insanely Great Screenplay (2017).
From Plato to Lancelot: A Preface to Chrétien de Troyes (Syracuse University Press, 2008).
Dr. Murray is also the author of over twenty peer-reviewed articles and a children's book, Ralph's Christmas Quest (Catspring, 2019), under "SJ Murray."
TED Talks