Resident Scholar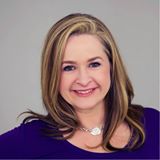 Baylor University
Homepage
Email Sarah-Jane Murray
Sarah-Jane was born in Ireland and educated in France before venturing across the pond to get her BA in French and Philosophy from Auburn University. Then she received the Ecole Normale Supérieure-Lettres et Sciences Humaines diploma in French and Linguistics, followed by a PhD from Princeton University in the Department of Romance Languages and Literatures. Sarah-jane also joins an impressive list of successful screenwriters as an alumna of the UCLA professional program in screenwriting and studied under chairman Richard Walter.
Sarah-Jane's academic research focuses on the power of story. In her first book, From Plato to Lancelot (Syracuse UP, 2009), she explored the merging of Celtic and classical traditions of storytelling in early medieval French literature. In 2007, she was invited to present a distinguished lecture in Paris and became a permanent member of the Centre for Medieval Studies at the Sorbonne Nouvelle (CEMA). She is also the recipient of grants from the American Philosophical Society and the National Endowment for the humanities. In 2011, the NEH awarded her a $210,000 grant for the first English translation of the  Old French Moralized Ovid In Verse, to be published by Baylor University Press.
Sarah-Jane received a Southeast EMMY® nomination as writer and associate producer credits on Primary Concern, a PBS documentary on the looming primary care crisis in health care in the United States (2013.) She is also the writer and co-producer of Ineffable, a documentary (in production) about the struggle to preserve the fine arts in America, also intended for broadcast on PBS. A theatrical feature film she rewrote goes into production in late 2014-early 2015.
Sarah-Jane is also writing a series of media rich ebooks on story rhetoric for Livingston+McKay's Nibbles imprint. The first book in the series (Three Act What? Great Story Structure) lays the groundwork for the books to come. In less than 24 hours of its release, it rocketed to #2 on the chart for download purchases. In 2013, the International Academy of Visual Arts awarded her the Communicator Award of Distinction from over 6,000 entries worldwide. She has coached numerous writers (including two New York Times bestsellers) on the art of insanely great writing.
At Baylor, you will find her teaching literature and writing, watching a movie or discussing great storytelling with her students, or hanging out with her feisty wheatonpoo, Coco.
To contact Sarah-Jane Murray for your next project or to speak at your event, please fill out the Livingston+McKay contact form.