Non-Resident Scholar
African-American Studies and Sociology
Harvard University
Email Jacqueline Rivers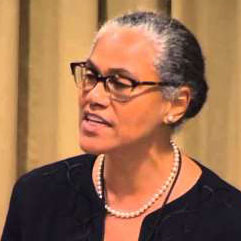 Jacqueline C. Rivers is currently a lecturer at Harvard University. She is the Executive Director and Senior Fellow for Social Science and Policy of the Seymour Institute for Black Church and Policy Studies. She has presented at Princeton University, the University of Notre Dame, the University of Pennsylvania, the American Enterprise Institute, the Vatican, the United Nations and in several other venues. Her latest publication appears in the volume Not Just Good but Beautiful. She has also published a chapter, written with Harvard sociologist Orlando Patterson and published by Harvard University Press, in The Cultural Matrix.
Jacqueline Rivers holds a PhD from Harvard University where she was a Doctoral Fellow in the Multidisciplinary Program in Inequality and Social Policy of the J. F. Kennedy School of Government and a Graduate Research Fellow of the National Science Foundation. She graduated from Harvard Radcliffe College (B.A. summa cum laude, Phi Beta Kappa and M.A., both in Psychology).