Non-Resident Distinguished Scholar
Gallup Organization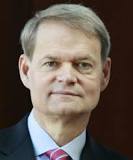 Frank Newport is Gallup's Editor in Chief, focused on giving voice to the collective opinions of all the people of the country, using scientific survey methods. These opinions provide direction for leaders, under the assumption that the collective wisdom of the people is most often wiser than the opinions of the few.
Gallup now conducts over 350,000 interviews with Americans on a daily basis each year, as well as continuous interviewing in over 150 countries worldwide.
Dr. Newport focuses primarily on the American public's views of their elected officials, and public attitudes relating to the economy, religion, well-being, and indicators of public mood and consumer behavior. He publishes extensively on the key topics of the day at gallup.com, and his analyses appear in his blog "Polling Matters", in books and other publications, and on video, podcasts and through radio and television appearances and speeches.
Dr. Newport is co-author of Winning the White House 2008 (Facts on File, 2009), author of Polling Matters—Why Leaders Must Listen to the Wisdom of the People (Warner Books, 2004), co-author with Stuart Rothenberg of The Evangelical Voter, and editor of The Gallup Poll: Public Opinion 2004–2011. His book God is Alive and Well: The Future of Religion in America was published in December, 2012.
Dr. Newport served as the 2010-2011 president of the American Association for Public Opinion Research, and is on the Board of Directors for the Roper Center for Public Opinion Research.
Frank graduated from Baylor University, from which he received the Distinguished Alumni Award in 2002, and holds a M.A. and Ph.D. in sociology from the University of Michigan. He appears weekly on the radio show "What Are We Thinking?", produced by Philadelphia NPR affiliate WHYY-FM.