Resident Scholar
Baylor University
Homepage
Email Sarah-Jane Murray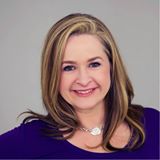 Sarah Jane Murray, Ph.D., is an Irish-born story designer, EMMY®-nominated writer and (executive) producer, and award-winning researcher and educator. She is a sought after speaker on story and creativity, and the author of two books: From Plato to Lancelot: A Preface to Chretien de Troyes (Syracuse UP, 2008), and Basics of Story Design: Twenty Steps to an Insanely Great Screenplay (AnderEd, 2017). Since 2014, her purpose-driven story strategies and short films for entrepreneurs and social-justice movements have been awarded more than a dozen international awards for branding and marketing, including the Silver Telly and Communicator Award of Excellence. Her award-winning feature documentary films have played in major festivals and have been acquired by PBS and Netflix. (Link to film history on IMDB: http://www.imdb.com/name/nm6142881/)
Born in Ireland, she graduated from Auburn University with a BA in French and Philosophy, and studied at the École normale supérieure de lettres et sciences humaines in Lyon before getting her MA and PhD from Princeton University. Murray is also a graduate of the UCLA professional program in screenwriting.
Her research has focused on the art of storytelling and the importance of story in shaping culture, beginning with the birth and explosion of vernacular storytelling in the Middle Ages, and spanning modern film and the VR and immersive experiences of the 21st century. This led to her 2014 TEDx on storytelling in San Antonio (viewed over 230,000 times: https://www.youtube.com/watch?v=BrtTyEmDLKQ) and a second TEDx in Santa Cruz on storytelling ethics, entitled "Write and Wrong" (https://www.youtube.com/watch?v=l_iQ-NSwgMM).
In 2011, she was awarded a major grant from the National Endowment of the Humanities (NEH) to translate the Ovide moralisé, an important cultural story of the Middle Ages. Murray is also the co-chair of the Working group on Film, Media & Storytelling for the Nexus Global Youth Summit and a member of Summit Series. She covers social entrepreneurship and innovative ideas for Conscious Company Media (https://consciouscompanymedia.com/author/sj-murray/).