Non-Resident Scholar
Economist at the White House Council of Economic Advisers
Homepage
Email Christos Makridis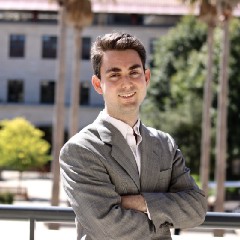 I recently finished my doctorates in management science & engineering and economics at Stanford University with a passion for areas of macro/labor/public economics and household finance. I graduated from the W. P. Carey School of Business at Arizona State University (Economics & Mathematics), earning the Spring 2012 Outstanding Graduating Senior for the Department of Economics and college-wide W. P. Carey School of Business, in addition to the Edward Rondthaler and McCord Scholars scholarships, among others. I now serve as an economist on the Council of Economic Advisers, a Digital Fellow at the MIT Sloan Initiative on the Digital Economy, a Non-Resident Fellow at the Harvard Kennedy School Cyber Security Project, and a Research Affiliate at the NYU Center for Urban Science and Policy.
My research agenda is largely partitioned into three categories of papers. First, how do individuals and firms respond to large shocks? My work examines the financial crisis, particularly through the lens of foreclosures on home mortgages, as a major shock. Second, how do individuals respond to incentives either from their company or from policy? My work examines the impact that financial and non-wage incentives have on employee behavior and, in turn, firm outcomes. Third, how does increa
sing technological change affect the labor market and creation / destruction of tasks? My work introduces new measures of information technology (+ other high skilled) jobs, automation, and the emerging challenge posed by cyber security breaches. Much of my research involves partnerships with organizations, such as Glassdoor, Payscale, Microsoft, Gallup, and the Bureau of Labor Statistics just to name a few.
​While all these research questions are a big part of my focus, all of my professional pursuits are ultimately rooted within my faith that Jesus is our Savior and Lord. (See the Billy Graham foundation for an exceptional set of resources [http://billygraham.org/] or email me.) My zeal for learning, producing, and serving is driven by a passion for helping others and positively impacting the world in any available opportunity. Though there is much more to learn, my expertise is grounded in a versatile set of quantitative techniques and business experiences that provide me with the insight and tools to help solve multidimensional problems in both industry and academia.