Non-Resident Scholar
Economist at the White House Council of Economic Advisers
Homepage
Email Christos Makridis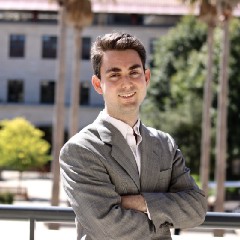 Christos also serves as a Senior Research Scholar at Columbia Business School, a Digital Fellow at the Digital Economy Lab in Stanford University, Research Professor at the W. P. Carey School of Business and Research Affiliate at the Global Security Initiative (both in Arizona State University), an Adjunct Fellow at the Manhattan Institute, a Senior Adviser at Gallup, and Senior Adviser at the National Artificial Intelligence Institute in the Department of Veterans Affairs. Christos is also an entrepreneur with two technology startups. Christos' primary academic research focuses on labor economics, the digital economy, and personal finance and well-being. He also writes frequently for syndicated outlets in the press and serves on the Council of Advisers for the National Center on Sexual Exploitation. Christos earned a Bachelor's in Economics and Minor in Mathematics at Arizona State University, as well a dual Masters and PhDs in Economics and Management Science & Engineering at Stanford University.