Non-Resident Senior Scholar, Culture, Politics, and American Life
President, AEI
Homepage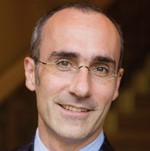 Arthur C. Brooks became the president of American Enterprise Institute in January 2009. He is the former Louis A. Bantle Professor of Business and Government Policy at Syracuse University's Maxwell School of Citizenship and Public Affairs and Whitman School of Management. Brooks earned his PhD in Public Policy Analysis from the Rand Graduate School in 1998, and also holds an MA and BA in economics.
Mr. Brooks has published approximately 100 articles and books on the connections between culture, politics, and economic life in America. He speaks frequently in the U.S., Europe, and Asia, is a contributing editor to Reader's Digest, and a frequent contributor to the Wall Street Journal and other publications. His latest book is the New York Times bestseller "The Conservative Heart: How to Build a Fairer, Happier, and More Prosperous America" (Broadside Books, 2015). His  book, on happiness in America, is Gross National Happiness: Why Happiness Matters for America—and How We Can Get More of It (Basic Books). In 2006 he published Who Really Cares: The Surprising Truth About Compassionate Conservatism (Basic Books), on American charitable giving, which the Wall Street Journal called a "lucidly written, carefully distilled and persuasively cogent work, a tidy time-bomb of a book," and on which Brooks briefed President George W. Bush and the First Lady in February 2007. In 2008 he also published the textbook Social Entrepreneurship(Prentice-Hall). Currently, he is working on a book called The Virtue of Vice: Why Bad Things Are Good for Us, set for release at the end of 2009. Preceding his work in academia, Mr. Brooks spent 12 years as a professional French hornist, holding positions with the City Orchestra of Barcelona and other ensembles. He is a native of Seattle, Washington, and currently lives in Syracuse, New York, with his wife Ester and their three children.