Non-Resident Scholar
Email: ezhai@uscet.org
Recent Publications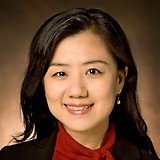 Dr. Jiexia Zhai Autry is the Development and New Initiatives Principal at the US-China Education Trust (USCET). Prior to joining USCET, Dr. Autry worked as a Global Fellow at the Institute for Global Engagement (IGE), a Washington think tank. In addition to managing IGE's East Asia programs, Dr. Autry served as a guest editor for the Review of Faith and International Affairs. Before coming to Washington, Dr. Autry was an assistant professor in the Department of Sociology and Gerontology and Asian/Asian American Studies at Miami University. She has conducted cutting edge research and taught courses on China and Taiwan, on religion and social demography, on Asian immigrants in the U.S., and on Globalization and Chinese Diaspora.
Dr. Autry has facilitated multiple international conferences and dialogue on China and the U.S. She has been actively involved in domestic and international intellectual communities.  Dr. Autry has widely published peer-reviewed articles in both English and Chinese. Some of her recent publications include "Pentecostal Christianity and Church-State Relations in China: The Case of the True Jesus Church Movement" (Review of Faith & International Affairs, 2013),  "Risk Aversion, Shortage Economy, and Gender Differences in Religious Activities in China" (Sociological Focus, 2013,  "Buddhism in Asian America" (in Asian Americans: An Encyclopedia of Social, Cultural, and Political History, 2013), and  "Contrasting Trends of Religious Markets in Contemporary China and Taiwan" (Journal of Church and State, 2010).
Dr. Autry earned a B.A. in sociology and law from Peking University, a M.A. and Ph.D. in Sociology from the University of Texas at Austin.  In addition to her work at USCET, Dr. Autry teaches as an Adjunct Professor at the Honors College at George Mason University in Fairfax, Virginia.