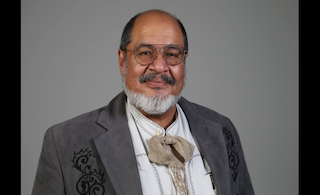 March 25, 2019
Dr. Juan Carlos Esparza Ochoa also will serve as research professor in ISR and the Diana R. Garland School of Social Work
Media Contact: Lori Fogleman, Baylor University Media and Public Relations, 254-710-6275
Follow us on Twitter: @BaylorUMedia
WACO, Texas (March 25, 2019) – With Baylor in Latin America one of the five signature initiatives of the University's Illuminate academic strategic plan, a top scholar who has researched and taught about religion in Latin America for nearly two decades joined the Baylor University faculty this semester.
Juan Carlos Esparza Ochoa, Ph.D., director of the Program on Religion and Latin America Studies in the Institute for Studies of Religion (ISR) at Baylor, also will serve as research assistant professor in both ISR and Baylor's Diana R. Garland School of Social Work.
"I finally feel at home. Collaborating in this program is a dream coming true," Esparza Ochoa said. "As a scholar, my interest has always been religion in Latin America. As a Christian, my hope has been finding a community to share expectations, challenges and efforts. I am particularly excited because I think the Baylor in Latin America initiative offers us all an amazing opportunity, as a University, for engaging with Latin American scholarship and Christian commitment to be acknowledged in the region as a main partner in discussions and common efforts."
From 2011 to 2018, Esparza Ochoa managed data for the global religious demography projects housed at the Pew Research Center. He is the co-director of the Project on Religion and Economic Change, where he measures the impact of Protestant and Catholic pastoral care, missionary activity and humanitarian work on education, health, economic development and political outcomes around the world.
"Juan Carlos has played a key role in developing techniques to link data from diverse historical sources over a long period of time – something that has stymied previous scholarship on long-term development and human flourishing," said Bob Woodberry, Ph.D., research associate professor at ISR. "He also linked 120 years of Mexican census data to understand what factors influenced the life conditions of poor and marginalized communities over the long term."
Prior to earning his Ph.D. in sociology from the University of Texas in 2012, Esparza Ochoa did ethnographic research and has worked with Mexican indigenous communities in the Sierra Papanteca, the Huasteca Potosina and the Nayar.
Illuminate calls for Baylor faculty to engage in multidisciplinary academic initiatives and contribute as mentors to undergraduates and graduate students through high-impact learning experiences. Specifically, the Baylor in Latin America initiative facilitates meaningful collaboration across disciplines that will help improve conditions within Texas and Latin America in areas such as health and disease prevention; business development and international trade; human capital formation and education; immigration, migration and human trafficking; congregational development; democratic governance and economics; and culture and arts.
"Juan Carlos brings to Baylor a scholar born and raised in Mexico who has been active in conducting research on religion around the world," said Byron R. Johnson, Ph.D., ISR director and Distinguished Professor of the Social Sciences at Baylor.
In addition to Baylor in Latin America, Illuminate's five signature initiatives have been developed around areas where existing collaboration already is yielding results, such as in areas of health, data sciences, materials science and human flourishing, leadership and ethics, and where continued work galvanizes interest among faculty and academic leaders on campus.
"We are excited about Professor Esparza Ochoa joining our team," said Jon Singletary, Ph.D., dean and professor in the Garland School of Social Work. "He will teach a number of classes for us in addition to collaborating with other social work scholars and students on a variety of ongoing Latin America initiatives within the School."
ABOUT BAYLOR UNIVERSITY
Baylor University is a private Christian University and a nationally ranked research institution. The University provides a vibrant campus community for more than 17,000 students by blending interdisciplinary research with an international reputation for educational excellence and a faculty commitment to teaching and scholarship. Chartered in 1845 by the Republic of Texas through the efforts of Baptist pioneers, Baylor is the oldest continually operating University in Texas. Located in Waco, Baylor welcomes students from all 50 states and more than 90 countries to study a broad range of degrees among its 12 nationally recognized academic divisions.
ABOUT THE BAYLOR INSTITUTE FOR STUDIES OF RELIGION
Launched in August 2004, the Baylor Institute for Studies of Religion (ISR) initiates, supports and conducts research on religion, involving scholars and projects spanning the intellectual spectrum: history, psychology, sociology, economics, anthropology, political science, epidemiology, theology and religious studies. The institute's mandate extends to all religions, everywhere, and throughout history, and embraces the study of religious effects on prosocial behavior, family life, population health, economic development and social conflict. For more information, visit www.baylorisr.org.
ABOUT THE DIANA R. GARLAND SCHOOL OF SOCIAL WORK AT BAYLOR UNIVERSITY
Baylor University's Diana R. Garland School of Social Work is home to one of the leading graduate social work programs in the nation with a research agenda focused on the integration of faith and practice. Upholding its mission of preparing social workers in a Christian context for worldwide service and leadership, the School offers a baccalaureate degree (B.S.W.); a Master of Social Work (M.S.W.) degree available on the Waco or Houston campuses or online; three joint-degree options, M.S.W./M.B.A., M.S.W./M.Div. and M.S.W./M.T.S., through a partnership with Baylor's Hankamer School of Business and George W. Truett Theological Seminary; and an online Ph.D. program. Visit www.baylor.edu/social_work to learn more.