Sasse, Benjamin E.
Non-Resident Scholar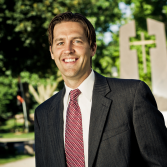 Midland University, President
Email Ben Sasse
Ben Sasse was elected the 15th president of the 127-year-old Midland University in October 2009.  At the age of 37, he became one of the youngest chief executives in American higher education.  He assumed office in March and will be formally inaugurated on December 10, 2010.
Before coming to Midland, Dr. Sasse served in multiple senior roles in both government and corporate America.  Nominated by President Bush and unanimously confirmed by the Democratic Senate as U.S. Assistant Secretary of Health and Human Services, Sasse led policy, strategic planning, and research functions at the federal government's largest agency from 2007 to 2009.  He focused especially on the Food and Drug Administration, Medicare, Medicaid, and the unsustainability of national entitlement spending.  His research on the politics and economics of American healthcare looks at efforts to modernize payment systems, to migrate from "paying for more" to "paying for better" in ways that will stimulate entrepreneurial innovation from doctors, hospitals, and adjacent industries.
Sasse began his career with the Boston Consulting Group and has advised a wide variety of organizations at moments of strategic crisis – working with airlines, utilities, manufacturers, the Department of Homeland Security, the FBI, the Federal Bureau of Prisons, and the government of Iraq.  He remains active on several boards and has advised private equity clients on health sector strategy.
Sasse holds visiting-scholar status in economics at the Brookings Institution in Washington, DC, and a fellowship at the Center for Politics and Governance at the University of Texas.  He has held academic appointments at Yale University and at the Lyndon B. Johnson School of Public Affairs at the University of Texas. Previously, he served as a chief of staff in the U.S. House of Representatives and as the chief of staff of the Office of Legal Policy, the internal think-tank of the U.S. Department of Justice.
He was educated at Harvard, Oxford, and St. John's before receiving his Ph.D. from Yale, where his dissertation on domestic politics during the Cold War won the Theron Rockwell Field (best dissertation) and the George Washington Egleston (history) Prizes. He writes regularly on health business issues for publications such as the Wall Street Journal and Investors Business Daily.  A Nebraska native, he has returned home with his wife, Melissa McLeod Sasse, and their two daughters.