Neubert, Mitchell J.
Resident Research Fellow-Management, Entrepreneurship, and Ethics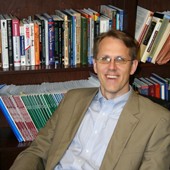 Baylor University
Email Mitchell J. Neubert
Homepage
Dr. Mitchell J. Neubert is the Gibson Chair of Management Development at Baylor. He joined Baylor University from Bowling Green State University, where he was a professor of Management and the Director of Bowling Green State University's Master of Organization Development program. Dr. Neubert's research interests are focused on understanding how leadership, teams, and change processes affect the performance of people and organizations. He has published in several journals including Personnel Psychology, Journal of Applied Psychology, Small Groups Research, Business Horizons, Psychological Reports, and Human Performance.
In addition to his academic credentials, Dr. Neubert draws upon his diverse work experience to enhance learning and bring about change. Before completing his Ph.D., he gained valuable experience as an information systems administrator in a manufacturing environment, as a director/supervisor of a non-profit ministry organization, and as a change agent/trainer in an educational setting. As a consultant, he has helped promote the effectiveness of non-profit educational, healthcare, and ministry organizations as well as for-profit organizations in telecommunications, software development, and automotive manufacturing.