Resident Research Fellow-Management, Entrepreneurship, and Ethics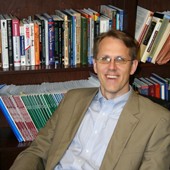 Baylor University
Email Mitchell J. Neubert
Homepage
Dr. Mitchell J. Neubert is the Chavanne Chair of Christian Ethics in Business and professor of Management at Baylor. Dr. Neubert's research interests are focused on understanding how leadership, teams, and change processes affect the performance of people and organizations. He also is interested in how faith intersects with these research interests.  He is the primary investigator on a National Science Foundation grant exploring the relationship of religion and entrepreneurship.  He has published in several journals including Personnel Psychology, Journal of Applied Psychology, Leadership Quarterly, Christian Scholars Review, Human Relations, and Review of Religious Research.  He also is the author of two textbooks and teaches in Baylor's undergraduate, MBA, and Executive MBA programs.
In addition to his academic responsibilities, Dr. Neubert provides leadership to programs and initiatives that promote his conviction that businesses can do well by doing good.  He hosts the Hankamer School of Business's annual Dale P. Jones Ethics Forum activities and Paul J. Meyer Christian Leadership in Business initiatives. He also regularly consults with leaders in both for-profit and not-for-profit organizations and ministries.
Resident Scholar, Religion & Economics – Hankamer School of Business

Baylor University
Email Charles North
Curriculum Vitae
Homepage
Recent Publications
Charles M. North is department chair and associate professor of economics at Baylor University. He holds a B.A. in Business Administration and an M.B.A. from Baylor University, a J.D. from Duke University, and an M.S. and Ph.D. in Economics from the University of Texas at Austin. His areas of expertise are the economics of religion, labor economics, law and economics, and applied microeconomics. His work in the area of religion has focused on the effects of government regulation of religious markets and the linkages between religion and economic growth. His work has been published in several peer-reviewed journals, including the Journal of Money, Credit & Banking, the Southern Economic Journal and the Industrial and Labor Relations Review.