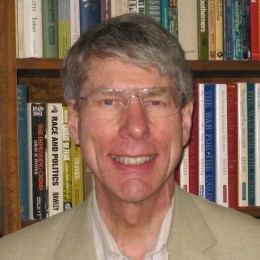 Non-Resident Senior Fellow, History of Religion
University of Stirling, Scotland
Email David Bebbington
David Bebbington Vitae
Homepage
David Bebbington took his degrees at the University of Cambridge and joined the Department in 1976. He was promoted to a Personal Chair in 1999. He has been a Distinguished Visiting Professor of History at Baylor University, Texas, in the fall semesters of 2003, 2005, 2007, and 2009. In 2006-07, he was the President of the Ecclesiastical History Society.
His principal research interests are in the history of politics, religion, ideas and society in Britain from the eighteenth to the twentieth century and in the history of the global Evangelical movement.  His books include Evangelicalism in Modern Britain: A History from the 1730s to the 1980s (1989), Victorian Nonconformity (1992), William Ewart Gladstone: Faith and Politics in Victorian Britain (1993), Holiness in Nineteenth-Century England (2000), The Mind of Gladstone: Religion, Homer and Politics (2004) and The Dominance of Evangelicalism: The Age of Spurgeon and Moody (2005).  He has edited The Baptists in Scotland (1988), Evangelicalism: Comparative Studies of Popular Protestantism in North America, the British Isles and Beyond, 1700-1990 (1994), Gladstone Centenary Essays (2000), The Gospel in the World: International Baptist Studies (2002), Modern Christianity and Cultural Aspirations (2003), and Nonconformist Texts: Volume 3: The Nineteenth Century (2006). He is at present working on a study of global religious revivals in the Victorian period.