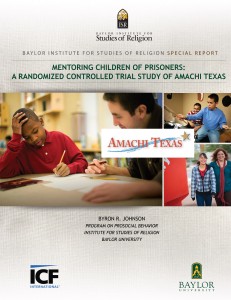 Mentoring Children of Prisoners: A Randomized Controlled Trial Study of Amachi Texas   Baylor Institute for Studies of Religion Special Report
The Amachi story provides compelling evidence that churches and faith-motivated volunteers can partner with secular organizations like BBBS and P/PV to achieve scale in addressing one of the most pressing problems of our time. Launched in 2000, and in less than a decade, Amachi has been the driving force behind a national movement to mentor a previously overlooked population — children of prisoners. 2014 by Byron R. Johnson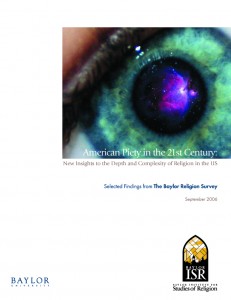 Preliminary findings related to the measurement of religion, the nature of religious belief, the relationship between religion and moral and political attitudes, and religious spending habits were released in Wave 1 at the National Press Club on September 11, 2006, in this research report.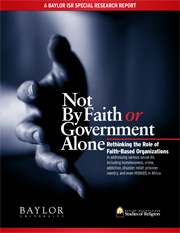 Not By Faith or Government Alone: Rethinking the Role of Faith-Based Organizations

in addressing various social ills,including homelessness, crime, addiction, disaster relief, prisoner reentry, and even HIV/AIDS in Africa.Short essays on the Faith-Based and Community Initiative. "I really appreciate the efforts of Byron Johnson and Rodney Stark in making ISR the most interesting sphere for thought on these topics in the country."
Karl Zinsmeister, Former Director of Domestic Policy Council
The White House