April 20, 2016
Blasphemy laws designed to protect religious communities from criticism also constitute an important barrier to religious freedom. Penalties for blasphemy, ranging from public censure and fines to imprisonment and even death, can intimidate people with beliefs that diverge from established versions of orthodoxy.
How do blasphemy laws impact religious freedom in practice? Under what conditions does the suppression of religious (and non-religious) expression encourage violent religious extremism? Has the abolition of blasphemy laws promoted greater religious freedom and peaceful religious pluralism? How can the international community most effectively mobilize against such laws in practice?
The Religious Freedom Project gathered a distinguished group of scholars, policymakers, and activists to debate these important questions. While the focus was on Muslim-majority states like Pakistan, Saudi Arabia, and Iran, the symposium also explored the historical and contemporary experience of other countries, including India and the United Kingdom.
This event was co-sponsored by the Religious Freedom Project and the Center for Islam and Religious Freedom.
Tuesday, October 27, 2015
11:30 AM – 2:00 PM
Copley Formal Lounge
Georgetown University
Washington, DC
In recent years, several issues have polarized the American people, including same-sex marriage and Obamacare's HHS contraception services mandate. Discussions on these topics are naturally heated, but some fear they have taken an illiberal turn and argue that religiously-based viewpoints are being met with increasing intolerance. This event will explore the potential impact of this phenomenon on religious freedom and the role of free expression in a liberal society. Is the desire to shut down debate on controversial issues leading some Americans to abandon the liberal value of the free exercise of religion for everyone?
Moderated by Timothy Shah, this conversation will feature special guest Kirsten Powers of FOX News, who has recently authored a book on this subject titled The Silencing, as well as author and scholar Phil Zuckerman and President of the Southern Baptist Ethics & Religious Liberty Commission Russell Moore.
International Religious Freedom: Toward a Model of Transatlantic Cooperation
Thursday,October 8, 2015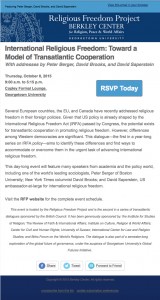 9:00 AM – 5:15 PM
Copley Formal Lounge
Several European countries, the EU, and Canada have recently addressed religious freedom in their foreign policies. Given that US policy is already shaped by the International Religious Freedom Act (IRFA) passed by Congress, the potential exists for transatlantic cooperation in promoting religious freedom. However, differences among Western democracies are significant. This dialogue—the first in a year-long series on IRFA policy—aims to identify these differences and find ways to accommodate or overcome them in the urgent task of advancing international religious freedom.
This day-long event will feature many speakers from academia and the policy world, including one of the world's leading sociologists, Peter Berger of Boston University; New York Times columnist David Brooks; and David Saperstein, US ambassador-at-large for international religious freedom.
This event is hosted by the Religious Freedom Project and is the second in a series of transatlantic dialogues sponsored by the British Council. It has been generously sponsored by: the Institute for Studies of Religion;
The Review of Faith & International Affairs
; Institute on Culture, Religion & World Affairs; Center for Civil and Human Rights; University of Sussex; International Center for Law and Religion Studies; and Birks Forum on the World's Religions. The dialogue is also part of a semester-long exploration of the global future of governance, under the auspices of Georgetown University's Global Futures Initiative. Read more about the event and its sponsors here.
With a conversation featuring Ken Starr, Keith Ellison, and Katrina Lantos Swett, and a keynote by Frank Wolf
Thursday, July 16, 2015
9:30 a.m. to 4:15 p.m.
Berkley Center
3307 M Street, NW
Washington, DC
According to the Pew Research Center, governmental and social restrictions on religion continue to rise. Today, 77 percent of the world's population lives in religiously repressive countries. This conference will examine the severe and growing challenges facing minority religions around the world and will give special attention to how religious persecution affects women and girls. A central question will be whether and how US international religious freedom policy can improve conditions for religious minorities abroad and the societies in which they live.
The day-long conference will include two panel discussions with religious freedom practitioners and scholars, as well as a conversation featuring Ken Starr, Congressman Keith Ellison, and Katrina Lantos Swett, and a keynote by Frank Wolf. For more information, please visit the event page. Lunch and coffee breaks will be provided.
This event is being co-sponsored by two groups: the Religious Freedom Project, in cooperation with its strategic partner, Baylor University's Institute for Studies of Religion, and the American Bar Association Section of Individual Rights and Responsibilities: Committee on Religious Freedom.
March 4, 2015
Georgetown University Berkley Center
The relationship between religious proselytism and development is sharply contested. International covenants recognize that religious freedom includes rights to personal religious conversion and public religious witness. But critics claim that proselytism can violate the rights of affected communities to maintain their traditions and can sow division in fragile societies. There is wide agreement that development aid should never be conditioned on religious conversion. Disagreement centers on whether, when, and how a vigorous religious marketplace, including the freedom to proselytize, fosters social dynamism and development or, on the contrary, social division that undercuts development goals.
Over the course of the day-long dialogue, three panels of distinguished religious leaders, development practitioners, and scholars examined these issues from diverse perspectives. A keynote conversation featured Pastor Rick Warren, founder of Saddleback Church, and Ruth Messinger, president of American Jewish World Service. for more click here
MUSLIM MINORITIES AND RELIGIOUS FREEDOM: A PUBLIC DIALOGUE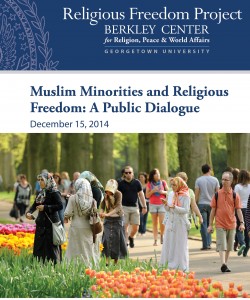 December 15, 2014
Georgetown University Berkley Center
This conference explored the effects of the marginalization of Muslim minorities in Europe and North America. It also addressed how Muslim communities can contribute to religious freedom, stable democracy, economic growth, and the countering of violent religious extremism. It featured three panels of experts, among them Abdullah Saeed, Dan Philpott, Jocelyne Cesari, and Timur Kuran, as well as a keynote conversation between Professor Robert P. George of Princeton, Professor John Esposito of Georgetown, and Shaykh Hamza Yusuf of Zaytuna College. The event attracted an audience of several hundred scholars, journalists, religious leaders, and other members of the public.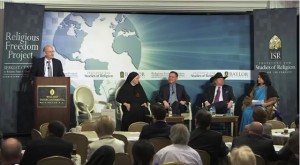 EVERYBODY'S BUSINESS: THE LEGAL, ECONOMIC AND POLITICAL IMPLICATIONS OF RELIGIOUS FREEDOM
March 2014
The Baylor-Georgetown partnership sponsored a daylong symposium,on the eve of Supreme Court arguments in Hobby Lobby's lawsuit over the Obamacare contraception mandate, with speakers as diverse as Harvard's Alan Dershowitz and George Washington University's Ira C. Lupu confronting arguments from Hobby Lobby advocates, including one of its lawyers, Kyle Duncan, former general counsel at the Becket Fund for Religious Liberty. The event was covered nationally by C-SPAN.
The Baylor-Georgetown partnership will continue to sponsor seminars, symposia, lectures, research reports, and books. For example, the Rome conference will yield several books, including one by Baylor Press.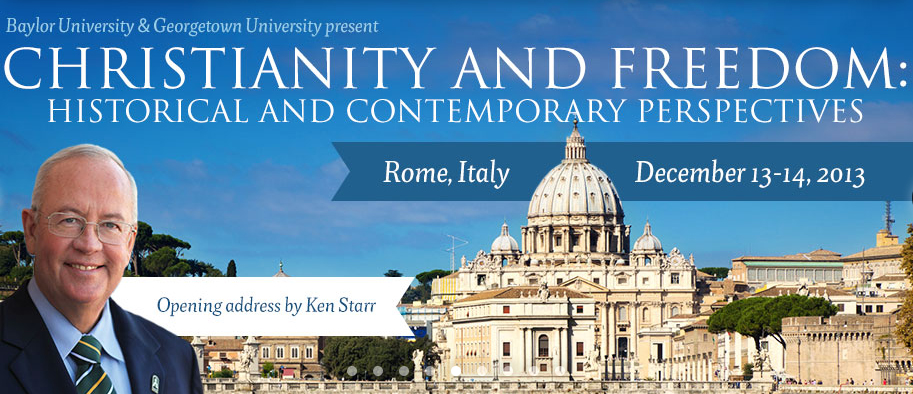 CHRISTIANITY AND FREEDOM: HISTORICAL AND CONTEMPORARY PERSPECTIVES
December, 2013
Rome, Italy
Held in Rome, where the range of presenters included Baylor president and former U.S. Solicitor General Ken Starr. Starr has spoken and written on the subject of religious freedom throughout his career.
The conference featured the findings of a two-year study conducted by dozens of scholars about Christianity's contributions to freedom. The conference coincides with the 1,700th anniversary of the Edict of Milan, issued by Emperor Constantine and granting religious freedom to people of all faiths throughout the Roman Empire. Also speaking at the conference was the Sorbonne's Rémi Brague, winner of the 2012 Ratzinger Prize; His Beatitude Mar Louis RaphaëI I Sako of Baghdad, patriarch of Babylon of the Chaldean Catholic Church; and Marcello Pera, former president of the Italian Senate.