IN THE NEWS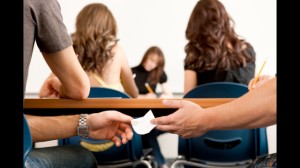 Rampant Cheating in Universities Will Be the Focus of a Baylor University Study Funded by Templeton World Charity Foundation
RESEARCH UPDATE:

With cheating rampant — and growing — in American high schools and colleges, researchers at Baylor University's Institute for Studies of Religion (ISR) will undertake a pilot study investigating the connection between various virtues and measures of academic honesty among college students aspiring to become teachers.
The three-year study beginning of approximately 2,000 students at five Texas universities will be funded by a $903,807 grant from the Templeton World Charity Foundation.
Cheating is becoming more widespread each year, and worse yet, "a growing percentage of students seem to see nothing wrong with cheating," said Rodney Stark, Ph.D., Distinguished Professor of the Social Sciences at ISR and a co-principal investigator of the study on student integrity.
Little research has been done on the connection between student commitment to virtues such as honesty and involvement in academic cheating. Other scholars conducting the study will be Perry Glanzer, Ph.D., associate professor of educational foundations in Baylor's School of Education and Faculty Fellow in ISR; and Byron Johnson, Ph.D., director of ISR and Distinguished Professor of the Social Sciences.
"The study will shed light upon the relationship between a set of important virtues — the moral virtue of honesty, the performance virtue of self-control, and the transcendent virtues of gratitude and purpose — related to academic integrity and performance," Glanzer said. "The study will also include a longitudinal survey of 2,000 students at five different institutions during their sophomore and senior years. We will also complete qualitative interviews at these universities in order to discover ways that students reason about these matters."
Armed with survey and interview data, the research team plans to analyze the relationship between character traits and virtues. Understanding the detailed links between key attributes will aid in determining how and whether certain key virtues predict academic honesty and deter cheating.
"It is our hope that this pilot study will inform a much larger national level study on this understudied topic," Johnson said.