Green Scholars Initiative Post-Doctoral Fellow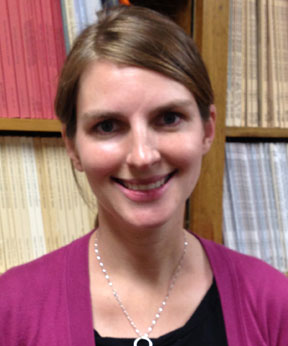 Melinda Nielsen is the Green Scholars Initiative Post-Doctoral Fellow for 2012. She studied Classics and English at Hillsdale College, and received her Ph.D in 2011 from the University of Notre Dame, where she was a Matthaus Fellow in Medieval English. In 2009 she was a Richard M. Weaver Fellow for the Intercollegiate Studies Institute, and has received numerous travel and research grants to conduct manuscript research across the United Kingdom and Europe.
Her dissertation focuses how medieval authors drew upon literary conventions to impersonate the saints and authors of the past, and fashioned themselves as living commentaries on the old texts by reincarnating the details of their lives in their own spiritual apologias. She particularly works on the medieval English tradition of Boethius's Consolation of Philosophy and its manuscripts, but her research includes developments in the genre of confession and autobiography, translation and literary theory, religious exegesis, and more broadly, vernacular experiments in Latin discourse. Portions of her dissertation have been published in in Viator: Journal of Medieval and Renaissance Studies 42.2 (August 2011), "Scholastic Persuasion in Thomas Usk's Testament of Love."
In her work for the Green Scholars Initiative, Melinda is acting as the Scholar-Mentor for the Speculum Humanae Salvationis project. This popular illustrated fourteenth-century overview of salvation history served as a homiletic guide for friars and a devotional aid for medieval Christians, as it traces typologies in word and image across Biblical and Church history. Additionally, she researches a group of Green Collection manuscript fragments, newly restored after having been ripped up and recycled in post-medieval book bindings. Melinda teaches on the medieval intellectual tradition in the Honors College.