Co-Directors of Faith & Generosity

Jay F. Hein
ISR Distinguished Senior Fellow
Program on Faith & Generosity
Amy L. Sherman
ISR Senior Fellow Program on Faith & Generosity
The ISR Program on Faith and Generosity has two aspects, both of them appropriate for a research institute. The first is to assess the role of faith in motivating generosity in hopes of discovering ways to make the link more effective and better organized. The second is to evaluate the results of faith-based generosity in terms of how well recipient groups and programs achieve their goals or can be made more effective.
An example of basic research on the link between faith and generosity is the study just completed by Buster Smith and Rodney Stark: "Faith and Generosity in Global Perspective."  Using data collected by the Gallup Organization in 156 nations, it was found that all of the major religions produce generosity—that within Christianity, Judaism, Islam, Buddhism, and Hinduism, the active members are substantially more likely to contribute to charity and volunteer to help others than are their less active co-religionists. Hence, the connection between faith and generosity is fundamental and world-wide.
Research conducted by ISR scholars range from the history of religion to its global reach and social impact.  Empirical studies aimed at the question of how faith influences acts of service was once rare, but now are proliferating at universities and think tanks thanks to a growing audience among policymakers, philanthropists and practitioners.  The Baylor ISR Program on Faith and Generosity contributes to this field of study through original research, interpretation and linkages to important materials across the United States and abroad.
Against this background, ISR will soon announce a study of a select group of Christian philanthropists. In addition, a major evaluation study of a prominent recipient group will soon be announced. At that time the director of this ISR initiative also will be appointed.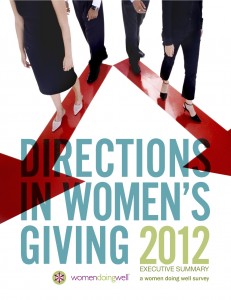 CLICK HERE TO DOWNLOAD
Directions in Women's Giving 2012 BY AMY L. SHERMAN