When:
February 18, 2016 @ 10:00 am – 12:00 pm
2016-02-18T10:00:00-06:00
2016-02-18T12:00:00-06:00
Where:
Hankamer Business School, Foster 143/144
Baylor Ave
Waco, TX
USA

This event is made possible in part by support from the Louisville Institute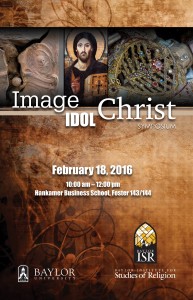 Eastern Orthodox venerate icons. Roman Catholics pray before statues. Protestants worry about idolatry. For centuries the question of images has divided the church. Can images now help unite it? Scholars and artists from the three major Christian traditions discuss the church's past, present, and future with images. Join Carole Baker (Catholic), Dmitri Andreyev (Orthodox), and Matthew Milliner (Reformed) as we ask:
When is an image an idol?
Why is there so much violence around images in the world?
Do we need iconoclasm today?
How deep are our differences over images?
What role might images have in a reconciled church?
What do images have to do with the scriptural claim that Christ is the Image of the invisible God?
"Against Confessional Aesthetics"- Matt Milliner: Wheaton College Art Department, Assistant Professor of Art History
"ICON, the tradition of symbolic realism – Dmitri Andreyev: Iconographer at Andreyev Iconography Studio, instructor at Prosopon School of Iconology
"Corpus Domini: The Lord's Body as the Salvific Image"- Carole Baker: Doctoral studies in Theology at Duke University