When:
2017-11-01T00:00:00-01:00
2017-11-02T00:00:00-01:00
Where:
Berkley Center, Copley Lounge
3307 M St NW #200
Washington, DC 20007
USA

On October 31, 1517, Martin Luther published his Ninety-Five Theses urging sweeping religious reforms and catalyzing the Protestant Reformation. The Reformation unleashed an intensified focus on freedom of conscience,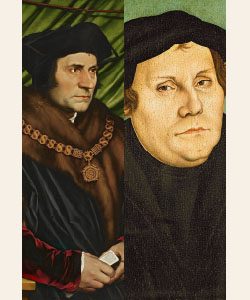 with dramatic social and political consequences. It fostered new notions of religious liberty as well as new frameworks for civic life. At the same time, the Reformation built upon centuries of Roman Catholic and Eastern Orthodox theologies of conscience, dignity, and freedom in ways that are not always understood.
This symposium will explore these dynamics, but also examine how Christianity per se has unleashed distinctive and powerful principles of conscience and freedom across its 2,000-year history, even in the face of what Pope Francis has called the "ecumenism of blood"—the severe religious persecution affecting numerous Christian and non-Christian communities around the world.
This symposium is co-sponsored by the Witherspoon Institute and the Baylor Institute for Studies of Religion and commemorates the launch of the two-volume series Christianity and Freedom.
SCHEDULE
10:00 a.m. – 10:20 a.m. | Welcome and Introduction
Shaun Casey, Berkley Center for Religion, Peace, and World Affairs
Thomas Farr, Religious Freedom Research Project
Timothy Samuel Shah, Religious Freedom Research Project
10:20 a.m. – 11:00 a.m. | Keynote Address
Robert Louis Wilken, University of Virginia
11:00 a.m. – 12:30 p.m. | Keynote Conversation: Catholic and Protestant Contributions to Freedom
Thomas Farr, Religious Freedom Research Project (moderator)
Matthew Franck, Witherspoon Institute
Melissa Rogers, Brookings Institution
Robert Louis Wilken, University of Virginia
12:30 p.m. – 1:00 p.m. | Lunch
1:00 p.m. – 2:30 p.m. | Christianity's Historical Contributions to Freedom
Timothy Shah, Religious Freedom Research Project (moderator)
Elizabeth Prodromou, Tufts University
Kyle Harper, University of Oklahoma
Slavica Jakelic, Valparaiso University
David Lantigua, The Catholic University of America
2:30 p.m. – 2:45 p.m. | Break
2:45 p.m. – 4:15 p.m. | Christianity's Contemporary Contributions to Freedom
Allen Hertzke, University of Oklahoma (moderator)
Jacques Berlinerblau, Georgetown University
Daniel Philpott, University of Notre Dame
Sara Singha, Berkley Center for Religion, Peace, and World Affairs
Fenggang Yang, Purdue University
4:15 p.m. – 4:30 p.m. | Concluding Remarks
Timothy Samuel Shah, Religious Freedom Research Project