Nov
14
Tue
2017
Richard Asante Lecture

@ Cox Lecture Hall, Armstrong Browning Library, Baylor University
Nov 14 @ 3:30 pm – 5:00 pm
The Role of Religion in Electoral Politics in Ghana and America: The Surprising Similarities.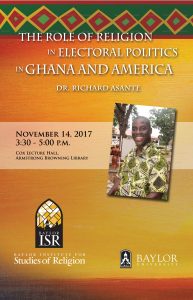 In this talk, Asante examines the role of religion (Christian) in electoral politics in Ghana and America during the 2016 Elections. He will present preliminary findings on ongoing research project on religion and electoral politics in Ghana and America. He demonstrates that despite the separation of religion from the state, religion played an important role in the 2016 Elections in Ghana and America. He concludes by looking at the implications for the future of democracy in Ghana and America.
Dr. Richard Asante a Senior Research Fellow and Lecturer in the Institute of African Studies, University of Ghana, Legon. Asante holds a PhD in Political Science under the Harvard University, Boston (USA) and University of Ghana Split-PhD Program. He previously served as the Head of Department and Research Coordinator of the History and Politics Unit of the Institute of African Studies from August 2014 to July 2016.  Asante teaches courses in comparative politics of Africa, peace and security in Africa and political economy of African development at both the graduate and undergraduate levels. He has special research interest in democratization, social capital and religion and politics. Asante has received a number of awards and fellowships. He was a Resident Scholar in International Relations at Pomona College, Claremont, USA during the 2016-2017 academic year where he taught courses in comparative politics of Africa and peace and security in Africa. He previously served as a Visiting Scholar at the New School University, New York (2004); Oxford University, UK (2005), University of Cape Town (UCT), South Africa; and Northwestern University, Evanston, USA (2012-2013). Asante is the Regional Manager for West Africa in the Varieties of Democracy Project (V-DEM) based in the University of Gothenburg, Sweden researching into alternative ways of measuring democracy globally. He is also a Mo Ibrahim Scholar of African Governance and Development; and Afrobarometer Scholar, and Associate member of the Afrobarometer Research Team, Ghana under the auspices of the Ghana Center for Democracy and Development (CDD-Ghana).
Nov
29
Wed
2017
Brent Landau Lecture

@ Cox Lecture Hall, Armstrong Browning Library, Baylor University
Nov 29 @ 3:30 pm – 5:00 pm
Christmas from the Wise Men's Point of View: The Apocryphal Revelation of the Magi
The Revelation of the Magi is an apocryphal early Christian writing purporting to be the personal testimony of the Magi (better known as the "Wise Men" or the "Three Kings") on the events surrounding the coming of Christ. It is by far the longest early Christian text devoted to these figures, and contains several fascinating interpretations of the biblical Magi story (Matthew 2:1-12) not seen elsewhere. In this text there are twelve Magi, or possibly more, in contrast to the traditional enumeration of three. They reside in a semi-mythical land in the Far East called "Shir"; and perhaps most startlingly, the Magi's star is actually Jesus Christ himself, who transforms from star to human and back again throughout the narrative.
Brent Landau is a lecturer in the Department of Religious Studies at the University of Texas at Austin. He received his Th.D and M.Div from Harvard University, and a B.A. in Religious Studies from the University of Iowa. Brent's chief research is on ancient Christian apocryphal writings, particularly traditions about Jesus' birth and childhood and fragments of Christian Apocrypha preserved on papyri.
Nov
30
Thu
2017
Jerry Walls Lecture

@ Paul L. Foster Campus for Business and Innovation, Foster 250
Nov 30 @ 5:30 pm – 7:30 pm
CS Lewis and the Case for Mere Purgatory
It is well known that CS Lewis took very seriously the doctrines of heaven and hell, and wrote extensively about them. It is less well known that he also believed in purgatory. Although his explicit writings on purgatory are relatively scant, there is ample material relevant to the doctrine in his theological works, especially Mere Christianity. Walls will argue that Lewis provides good reasons to affirm a version of the doctrine of purgatory, for Protestants as well as Roman Catholics.
Jerry L. Walls is Professor of Philosophy and Scholar in Residence at Houston Baptist University. Among his books is a trilogy on the afterlife: Hell: The Logic of Damnation; Heaven: The Logic of Eternal Joy; and Purgatory: The Logic of Total Transformation; and more recently, Heaven, Hell and Purgatory: Rethinking the Things that Matter Most. He is the co-editor (with Trent Dougherty), of the forthcoming volume, Two Dozen (or so) Arguments for God: The Plantinga Project.
Subscribe to filtered calendar