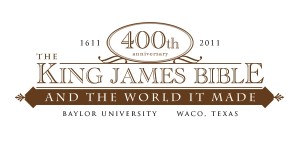 THE KING JAMES BIBLE AND THE WORLD IT MADE, 1611-2011
Thursday, April 7-Saturday, April 9, 2011
Baylor University, Waco, Texas
Travel Information and Hotel Accommodations
Location
The conference will be held on the campus of Baylor University with most activities occurring at Truett Seminary (building 60 on the campus map. ) which is located at the corner of South 3rd Street and Dutton Avenue.  Please check in at the registration table in the foyer of the Truett Seminary Chapel.
Designated visitor parking is available in the Ferrell Center parking lot.  Shuttles will be available to transport you back and forth . For a map of the Ferrell Center parking area, click here.
Transportation
Driving
Waco, Texas is conveniently located in central Texas, approximately one hundred miles south of Dallas/Fort Worth and one hundred miles north of Austin. Interstate 35 runs through the center of Waco, and Baylor University is immediately east of the highway at either the University Parks or 4th/5th Street Exits.
Flying
When planning your travel, please keep in mind that, in addition to Waco Regional Airport (ACT), four airports in Dallas, Austin, and Killeen are within a two-hour or less drive to Waco via Interstate 35: Dallas Fort Worth International Airport (DFW), Dallas Love Field (DAL), Austin-Bergstrom International Airport (AUS), and Killeen-Fort Hood Regional Airport (GRK).
Shuttle Service from Dallas Airports to Waco
The Waco Streak provides scheduled airport shuttles to DFW and Love Field four times daily. For more information, call 800-460-0430 or visit www.waco-streak.com.
Transportation from other airports outside Waco will require a rental vehicle. Visitors arriving at Waco's airport should verify whether their hotels provide shuttle service to that airport.
Transportation during Conference
Some hotels provide shuttle service to and from Waco's airport. Please inquire and make arrangements with your hotel for pickup and drop off in advance of your arrival and departure flights.
You also will need to make arrangements for travel between the campus and the hotels. If you will not have a vehicle, then please check whether your hotel offers shuttle service to and from campus.
Taxi and Rental Cars
The following taxi and rental car agencies serve Waco's airport. Please be sure to contact these companies in advance as availability is typically limited during conferences.
Waco Yellow Cab: (254) 756-1861
Avis Car Rental: (254) 756-1921
Hertz Car Rental: (254) 296-4153
Enterprise: (254)755-8324
Hotels
Accommodations are available at the following nearby local hotels at conference rates. Be sure to reserve early.
Courtyard by Marriott
101 Washington Ave.
Waco, Texas 76701
800-228-9290 or (254) 752-8686
$107 per night plus tax  (mention King James Baylor for rate)
Wireless Internet access; guest business center; airport shuttle upon request; breakfast buffet $8.95; 1.34 miles from center of campus
Hilton Waco
113 South University Parks Drive
Waco, TX 76701
254-754-8484 or 800-445-8667
$119.00 plus tax/per night (mention King James Baylor for rate)
Breakfast, $12.95; airport shuttle upon request; click here for a complete list of services & amenities; 1.22 miles from the center of campus.
Additional Information
Other area hotels and information about travel to and within Waco can be found on the Waco Convention & Visitors Bureau web site: http://www.wacocvb.com/.
Questions?
Contact us by telephone at 254-710-7555 or e-mail at KJV400@baylor.edu.