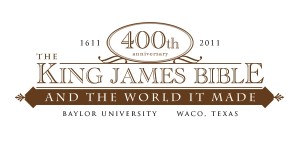 Registration for the King James  Bible and the World it Made, 1611-2011
Regular Registration is $175; Student Registration is $75. Both regular and student registrations permit entry to all conference events including meals and breaks.
Current Baylor faculty, staff and students: Registration is free, please register. Payment of fee is required only of those Baylor attendees who are presenting a paper. Those not presenting a paper may attend all conference activities except the meals free of charge.
PLEASE NOTE NEW MEAL REGISTRATION PROCESS: For Baylor faculty, staff or students wishing to dine at the meals please click here and register OR (re-register if necessary)  for the evening meals you want to attend. (Lunch  meals are being held in campus dining facilities at your own cost.)  
If you have any difficulty downloading the forms or have any questions about registration or the conference, then you can contact us by telephone at 254-710-7555 or email at KJV400@baylor.edu.