Five Best: Jeff Guinn on Books About Cults
The author, most recently, of "The Road to Jonestown" recommends works about true believers and troubled times.
By
Jeff Guinn
Aug. 23, 2018 5:36 p.m. ET
The Ashes of Waco
By Dick J. Reavis (1995)
1 Branch Davidians believed that their leader, David Koresh, was a prophet whose presence would usher in the initial battles of the End of Days. On April 19, 1993, a 51-day siege of the cult's compound in Waco, Texas, by federal agents ended with 74 followers perishing. Lawmen believed—improbably, according to Dick Reavis—that the cultists were dealing drugs, manufacturing illegal arms and committing indecent acts with children. Koresh had indeed engaged in sex with underage girls. But what the agents failed to realize was that their full-scale assault fit perfectly into Davidian beliefs. One survivor told Mr. Reavis they believed "prophecy was being fulfilled. . . . That thought can be quite elating." The author brings readers into the middle of it all; horrific as the chapters become, it's impossible to skip a page.
The Allure of Immortality
By Lyn Millner (2015)
2 Here's how a bizarre cult winnowed its way into an otherwise conservative Florida community in the late 1800s. As taught by their leader, Cyrus Teed, the Koreshans—Teed's name is Koresh in Hebrew—believed that the universe existed inside a huge, hollow earth, and that their sacred destiny was to build a socialist utopia near swampy Fort Myers. Their peaceful attitude and humor made them (mostly) welcome neighbors. "We Live Inside" became the cult's theme—one printed on fliers and buttons along with the droll invitation "Drop In and See Us." Many outsiders did, including Thomas Edison and Henry Ford. More than 200 Koreshans sustained a Florida settlement for decades; it's now preserved as a state historic site.
Going Clear
By Lawrence Wright (2013)
3 Scientology promises adherents that they will learn how to move beyond the bad memories and experiences of past and present lives and emerge as free, joyful spirits. All sorts of complex activities are involved, among them "eight dynamics," "tone scale" and "going clear." Lawrence Wright points out that labyrinthian terms and teachings (which Scientology founder L. Ron Hubbard called "a mystery sandwich") are a deliberate means to keep members too occupied to question what they're told. Scientologists, Mr. Wright concludes, "are made to strive for a condition of perfection that is unattainable." One of the book's most compelling sections focuses on Scientology's relentless recruitment of celebrities—a way of winning more adherents in a culture obsessed with fame. Tom Cruise and John Travolta are the best-known members but, Mr. Wright notes, many other stars, including Leonard Cohen and Christopher Reeve, have had at least some peripheral connection. Hubbard himself was, in addition to all else, a writer of best-selling fiction, albeit in yarns as seemingly endless and dense as Scientology itself. No less a connoisseur than Mitt Romney once cited "Battlefield Earth," Hubbard's clunky 1,000-page sci-fi epic, as his favorite novel. Mr. Wright's nonfiction book is its polar opposite. Brilliantly constructed and exhaustively researched, "Going Clear" is a masterwork.
The Cult at the
End of the World
By David E. Kaplan & Andrew Marshall (1996)
4 The infamous cult Aum Shinrikyo, which in 1995 launched a poison-gas attack on Tokyo's subways, attracted "not just the curious and alienated," David Kaplan and Andrew Marshall write, but also "some of the finest young minds in all Japan—chemists, biologists, doctors, computer programmers." They were drawn to the cult in part because, the authors write, Japanese society "crushed individualism." Leader Shoko Asahara ingrained in his followers a belief that killing the less-enlightened "helped send their victims to a higher plane." The authorities were ill prepared to respond, having vastly underestimated Asahara's followers. As a result, 13 victims perished and almost 6,000 were sickened in the subway attack. It's a story that supports the chilling suspicion that socially frustrated "hi-tech children," weaned on sci-fi comics, films and video games, are susceptible to "dramatic claims to supernatural power . . . [and] warnings of an apocalyptic future." This history also underscores another truth—cults aren't invariably made up of religious fanatics or people of low intellectual capacity.
Mystics and Messiahs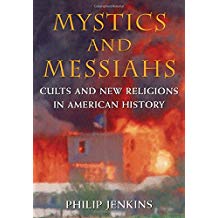 By Philip Jenkins (2000)
5 For an understanding of cults in America, this is a vital guide. "Extreme and bizarre religious ideas are so commonplace in American history," Philip Jenkins explains, "that it is difficult to speak of them as fringe at all." We learn the variety of ways cults appeal to followers. They may address their audience through the media or focus on individual contact. Others are established as movements with formal membership and meetings, its believers leaving their old lives behind to take up new ones as cult members. Mr. Jenkins allows that cults can certainly be "baneful." But he also notes that every widely accepted modern-day faith was initially identified as bizarre. Christianity, he observes, was once "believed to include incest, orgies, child murder, and cannibalism." Rich in anecdotes, this sober and instructive book succeeds in being entertaining as well.