Top 10 Religion & Spirituality Books: 2017.
Cooper, Ilene (author).
FEATURE. First published November 15, 2017 (Booklist).
These titles, reviewed in Booklist between November 15, 2016, and November 1, 2017, range from discussions of the soul to analyses of religious writings.
Ageless Soul: The Lifelong Journey toward Meaning and Joy. By Thomas Moore. St. Martin's, $26.99 (0781250135910).
Moore, a former monk and current psychotherapist, contemplates aging, counseling older readers on how to use their time productively and to use obstacles as a way to perfect the soul.
Benjamin Franklin: The Religious Life of a Founding Father. By Thomas S. Kidd. Yale, $32.50 (9780300217490).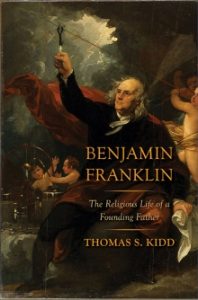 Drawing on Franklin's many writings, including letters, Kidd's lucid work, accessible to a wide audience, paints this Founding Father as a deist who believed in a benevolent, divine providence.
Dorothy Day: The World Will Be Saved by Beauty. By Kate Hennessy. illus. Scribner, $17.99 (9781501133081).
Before Day became considered for sainthood, she was a member of a tumultuous family, chronicled in this memoir by her granddaughter. Her story is depicted with warmth, poignancy, and not a little poetry.
Einstein and the Rabbi: Searching for the Soul. By Naomi Levy. Flatiron, $27.99 (9781250056720).
In this stirring spiritual journey, Levy attempts to find some of the correspondence between the eminent scientist and a grieving father.
The Koran in English: A Biography. By Bruce B. Lawrence. illus. Princeton, $26.95 (9780691155586).
Translating the Koran poses myriad challenges, and this book's main focus is on the motivations, inspirations, and pitfalls behind a unique endeavor.
Martin Luther: The Man Who Rediscovered God and Changed the World. By Eric Metaxas. Viking, $30 (9781101980019).
A masterful account of a personal transformation that triggered a cultural transformation.
May Cause Love: An Unexpected Journey of Enlightenment after Abortion. By Kassi Underwood. HarperOne, $26.99 (9780062458636).
After an abortion, Underwood, although not regretting her decision, knew she needed to heal from guilt and despair. Her spiritual journey leads to encounters with several religions. Full of rich emotion, this is also an excellent resource for those in similar situations.
The Mind of God: Neuroscience, Faith, and a Search for the Soul. By Jay Lombard. Harmony, $25 (9780553418675).
Lombard, a neurologist, sees the brain not only as a biochemical organ but also as the seat of metaphysical realities—the divinely forged soul. A much-needed bridge between science and faith.
The Rise and Fall of Adam and Eve. By Stephen Greenblatt. illus. Norton, $27.95 (9780393240801).
Greenblatt is fascinated by how the first couple have shaped Western culture. This impressive inquiry probes different myths about Adam and Eve and how science has changed our perceptions of them.
Sex and the Constitution: Sex, Religion, and Law from America's Origins to the Twenty-First Century. By Geoffrey R. Stone. illus. Norton/Liveright, $35 (9780871404695).
The ongoing and ever-changing relationship between sex, religion, and law is examined in this historical distillation of how America has dealt with or failed to deal with these three critical components of culture and societ