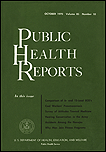 Poverty is the most significant determining factor for the health of populations, globally and in the U.S. Efforts to reduce poverty thus should be at the forefront of the nation's public health strategy. Yet the recent healthcare reform debate neglected to account for this issue, and thus failed to address a root cause of population ill health. According to Jeff Levin, of Baylor University's Institute for Studies of Religion, Congress and the White House must account for socioeconomic disparities if efforts to improve the nation's health are going to succeed.
Population health data dating back decades reveal that poverty and poor social conditions are associated with poorer physical and mental health. People in poverty, on average, have more chronic, acute, and infectious disease; receive less access to preventive medical care; live shorter lives; experience more symptoms and pain; endure higher rates of depression; and lose more days from work. Accordingly, Levin calls for a comprehensive antipoverty agenda to be at the forefront of public health policy in the U.S. His comments are published in the latest issue of Public Health Reports, the official journal of the U.S. Public Health Service.
In particular, Levin offers a few broad recommendations. These focus on policy-oriented initiatives and partnerships that would bring together federal, state, and local governments; the civil-society or voluntary sector, including faith-based organizations and institutions; and public health agencies to share resources and work in tandem to promote health and prevent disease in communities. There is an especially key role for the Office of the Surgeon General, in keeping with its famous bully pulpit and its statutory charge to advise the executive branch on matters of public health priority. For Levin, "There is no bigger priority for our nation's health than advocating for poverty reduction. Bringing public, and presidential, attention to the implications of poverty for population health can elevate awareness of this critical issue to the point where thoughtful action becomes a national priority."
Levin holds a distinguished chair at Baylor, where he serves as University Professor of Epidemiology and Population Health, Professor of Medical Humanities, and director of the Program on Religion and Population Health. The Baylor Institute for Studies of Religion is an academic center that specializes in social research and public policy analysis on religion.