How prevalent is the use of prayer for healing among American adults? According to Jeff Levin, of Baylor University's Institute for Studies of Religion, almost nine out of ten Americans have relied upon healing prayer at some point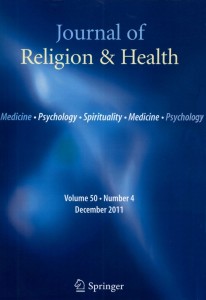 in their life. These findings suggest that prayer may be among the most widely used forms of treatment for medical problems.
Analyses of data from the third round of the Baylor Religion Survey, a nationally representative population survey conducted in 2010, showed that rather than being a fringe activity, as many people might believe, prayer for healing is widespread.
Over three-quarters of Americans have prayed for their own healing, and nearly a third do so often. Nearly 90% have prayed for the healing of others, and over half report doing so often. Over half of Americans have asked for healing prayer and have participated in prayer groups. The most surprising finding: over a quarter of all Americans have practiced laying-on-of-hands, and almost one in five has done so on multiple occasions.
These findings are published in the Journal of Religion and Health.
For Levin, these results suggest that religion remains a vital resource for Americans, including those experiencing health challenges. Moreover, according to these findings, Levin notes, "outside of belief in God there may be no more ubiquitous religious expression in the U.S. than use of healing prayer."
Interestingly, most people who use prayer for healing do so alongside regular medical care, rather than as a substitution, as has been presumed up to now. Healing prayer is thus being utilized more as a "complementary" than an "alternative" treatment.
The next step for Levin and his Baylor colleagues will be investigating potential differences in rates of healing prayer across different religions and denominations. Preliminary analysis suggests that the practice is widespread, regardless of one's religious background or beliefs. "Even people who profess to be non-religious are praying for healing, for themselves and others," Levin notes.
Levin holds a distinguished chair at Baylor, where he serves as University Professor of Epidemiology and Population Health, Professor of Medical Humanities, and director of the Program on Religion and Population Health. The Baylor Institute for Studies of Religion is an academic center that specializes in social research and public policy analysis on religion.