" We had better accept these kids! Hippies, Baptists, and the Jesus Revolution"
October 19, 2015
Armstrong Browning Library – Cox Lecture Hall
3:00 pm
The Jesus People of the 1960s and 1970s were an unlikely combination of countercultural hip and pentecostal square. They were the source of Contemporary Christian Music, and the vanguard of the "praise and worship" movement; they revolutionized evangelicals' relationship to youth culture, and created the first come-as-you-are "seeker sensitive" churches. This lecture will examine the surprisingly large role that Baptists played in the movement, from the streets of Haight-Ashbury and the Sunset Strip, to the appropriation of the movement as a vehicle for evangelism across middle America.
Larry Eskridge is the author of God's Forever Family: The Jesus People Movement in America (Oxford University Press, 2013) where he examines the fusion of the hippie counterculture and evangelical Christianity that burst onto the scene in the late 1960s. He was with Wheaton College's Institute for the Study of American Evangelicals for over 25 years and taught part-time in Wheaton's History and Bible-Theo departments. A native of North Carolina raised in the Chicago area, he grew up Southern Baptist and consistently scored between 90 and 100% on his weekly Sunday School offering envelopes.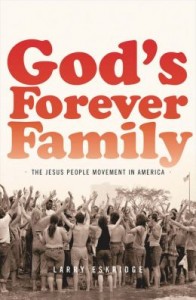 Winner of Christianity Today's 2014 Book of the Year and History/Biography awards.
Named one of the Top 10 Most Intriguing Books of 2013 by the Religion News Service.
Winner of the Religion Newswriters' Association's 2014 Non-Fiction Book of the Year.