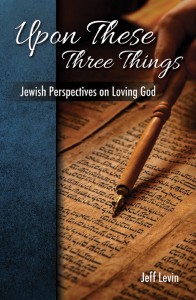 In Upon These Three Things:  Jewish Perspectives on Loving God (ISR Books, 2015), Baylor University's Dr. Jeff Levin presents a thoughtful introduction to Jewish moral theology and applied social ethics.  He summarizes what Judaism says about what it means to love God, how to go about doing so, and how this affects our lives and our world.
For Jews, notes Levin, loving God is morally constructed and outwardly focused, grounded in a covenant that outlines obligations to God, to one another, and to the world.
Levin, who holds a distinguished appointment at Baylor's Institute for Studies of Religion, is a biomedical scientist by training, but has devoted the past several years to research and writing on Judaism and the religious life of Jews in the U.S. and Israel.  His most recent book picks up on themes that he explored in Divine Love:  Perspectives from the World's Religious Traditions (Templeton Press, 2010), edited along with Dr. Stephen G. Post.
According to Post, Director of the Center for Medical Humanities, Compassionate Care, and Bioethics at Stony Brook University, "I have read no contemporary work on the topic that is as significant as Upon These Three Things."
Drawing on biblical and rabbinic sources and the writings of both Jewish sages and contemporary scholars, Levin offers an extended d'rash, or commentary, on the famous words of Rabbi Shimon the Just in Pirke Avot that "upon three things the world stands."
Levin discusses the importance of a life devoted to torah (learning), avodah (worship), and g'milut chasadim (acts of lovingkindness) as the truest expression of traditional Jewish morality and the surest pathway to both personal and cultural transformation.  Accordingly, Jewish religious observance and social consciousness are not mutually exclusive but rather are inseparable expressions of the Jewish covenant with God.
Rabbi David Ellenson, Chancellor of Hebrew Union College-Jewish Institute of Religion, states that "Jeff Levin knowingly and intelligently demonstrates that Jewish belief in God demands that Jews emulate the divine attributes of justice and mercy that mark the essence of Jewish faith."
Levin's colleague at Baylor, Dr. David Lyle Jeffrey, Distinguished Professor of Literature and the Humanities, praises Upon These Three Things as "a beautiful book, a wonderful meditation on loving God and our neighbor with the whole of an integrated life. . . .  with much to enrich and deepen the understanding and grateful affections of Christian as well as Jewish readers."
Levin serves as University Professor of Epidemiology and Population Health, Professor of Medical Humanities, and Director of the Program on Religion and Population Health at Baylor.  He is also Adjunct Professor of Psychiatry and Behavioral Sciences at Duke University School of Medicine.  Baylor's Institute for Studies of Religion is an academic center that specializes in social research and public policy analysis on religion.