CLICK HERE TO VIEW THE VIDEOS OF THIS EVENT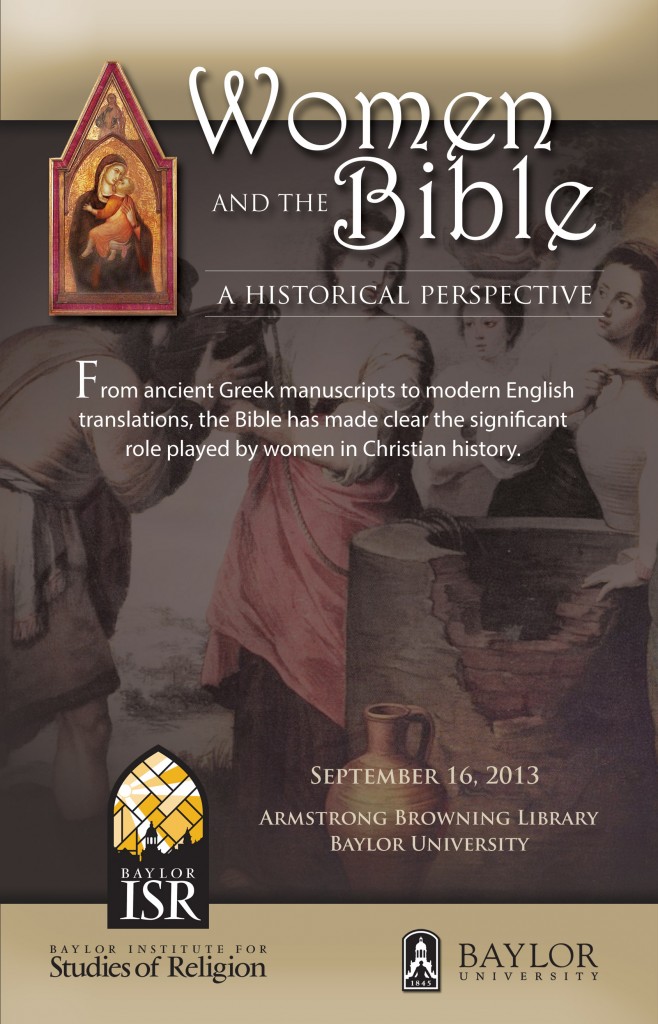 Monday, September 16, 2013
Armstrong Browning Library
Cox Lecture Hall
Morning Panel:  10:30 am
Afternoon Lectures:
2:00 pm  Armstrong Browning Library
3:30 pm Kayser Auditorium
From ancient Greek manuscripts to modern English translations, the Bible in all its incarnations has made clear the significant role played by women in Christian history. As Dorothy Sayers so aptly stated, "Women were first at the Cradle and last at the Cross." At the same time, the role played by the Bible in fashioning women's religious identities (including variations in scripture interpretation) and the ways in which women have appropriated the Bible for their own use have not remained so uniform. Highlighting research from across the historical spectrum—ancient, medieval, and modern—this symposium explores how the shifting currents of history have shaped perceptions both of women in the Bible and of religious women themselves.
"The Women and the Bible" symposium will feature a morning panel spanning the timeline of Christian history: from a reevaluation of 1st Thessalonians in context of its female audience by Lindsey Trozzo (Baylor University), to a discussion of female patronage of the Bible during Reformation England by Melissa Franklin-Harkrider (Wheaton College), to an examination of an early twentieth-century female missionary who retranslated the Bible in a radically gender attentive way by Kristin Kobes Du Mez (Calvin College). The afternoon will feature the lecture "Weak and Silent Vessels: The Impact of the English Bible on Christian Women" by Beth Allison Barr (Baylor University), and culminate with the lecture "Joanna—The Untold Story" by Ben Witherington III (Asbury Theological Seminary).
10:30 am Morning Panel
Bruce Longenecker, Professor of Biblical Studies and Melton Chair of Religion, Baylor University
Lindsey Trozzo, Ph.D. Candidate, Baylor University
Melissa Franklin-Harkrider, Associate Professor of History, Wheaton College
Kristin Kobes Du Mez, Associate Professor of History, Calvin College
Afternoon Lectures
2:00 pm  Beth Allison Barr, Assistant Professor of History, Baylor University
3:30 pm  Ben Witherington III, Amos Professor of New Testament for Doctoral Studies, Asbury Theological Seminary