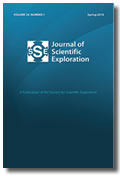 If the U.S. government ever announced that it had prior contact with extraterrestrials, as many people believe, would this cause a crisis of faith that would threaten the authority of religious institutions?  Unlikely, says Jeff Levin of Baylor University's Institute for Studies of Religion.  In a paper published in the latest issue of Journal of Scientific Exploration, Levin presents findings from data collected in the 1990s as a part of the Alexander UFO Religious Crisis Survey, a privately funded study of responses from over 200 priests, ministers, and rabbis to a series of questions about the possible religious ramifications of alien-related disclosure.  The survey data, summarized in an unpublished report and circulated privately for many years, was recently made available to Levin for more detailed analysis.
The fallout from government disclosure of alien contact, presuming that there is indeed anything at all to disclose, is a controversial subject that has been subject to speculation—and worry—by federal officials and academic scientists for many decades.  It has been generally assumed that religious beliefs are too fragile to withstand the possibility that life exists elsewhere in the universe.  According to the new findings, however, this is not so.  "If the present data, from this study and from other surveys and polls, tell us anything," says Levin, "it is that most Americans would just keep going about their business should the government some day choose to disclose evidence of an extraterrestrial presence on Earth."
Levin holds a distinguished chair at Baylor, where he serves as University Professor of Epidemiology and Population Health and director of the Program on Religion and Population Health.  The Baylor Institute for Studies of Religion is an academic think-tank that specializes in social research and public policy analysis on religion.