CLICK HERE TO VIEW THE VIDEO OF THIS EVENT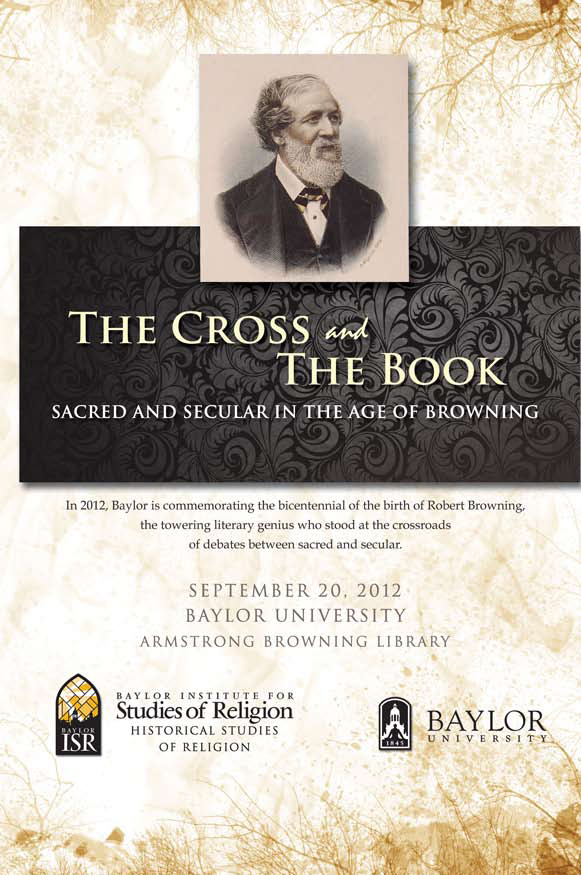 September 20, 2012
Baylor University
Armstrong Browning Library

Ever since the Enlightenment, Western Christians have striven to come to terms with modernity and modern science, to understand the impact of advances in geology, astronomy, and higher criticism of Scripture, and to assess how these insights should be incorporated into education. In some eras such struggles became central to public debate and even national politics, never more so than in the rich intellectual flowering of Victorian England.
In 2012, Baylor is commemorating the bicentennial of the birth of Robert Browning, the towering literary genius who exemplifies these debates. Given Baylor's astonishing collection of Browning materials at the Armstrong-Browning Library, it is highly appropriate for our university to host this event commemorating his achievements, and especially the cultural world of his day, when faith and science seemed so inextricably linked.
"The Cross and the Book" symposium will feature a morning panel discussion on secularization and higher education in the 19th century, and afternoon lectures by Timothy Larsen (Wheaton College) and Philip Jenkins (Baylor Institute for Studies of Religion).

Panel Discussion – Program description pdf
10:30 am Cox Lecture Hall,  Armstrong Browning Library
Participating in the panel discussion will be professors Stephen G. Alter (Chair, Department of History, Gordon College), Susan Hanssen (associate professor of history at the University of Dallas) and Andrea Turpin (Baylor University Assistant Professor of History)The panel will be followed by two afternoon lectures:

Armstrong Browning Library
Meditation Room
2:00 pm – Philip Jenkins (Baylor University Distinguished Professor of History)
"A CRITIC IN THE DESERT: Robert Browning and the Limits of Plain Historic Fact"
3:45 pm – Timothy Larsen (Carolyn and Fred McManis Professor of Christian Thought, Wheaton College)
"The Victorian Crisis of Doubt"