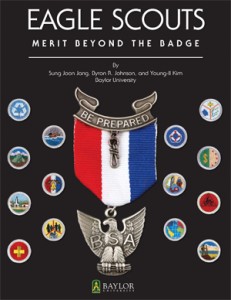 There is no shortage of examples or anecdotal accounts that suggest Scouting produces better citizens, but is there scientific evidence to confirm the prosocial benefits of Scouting or earning the rank of Eagle Scout?  One hundred years after Arthur Eldred of New York earned the first Eagle Scout Award from the Boy Scouts of America, researchers with Baylor University's Institute for Studies of Religion (ISR) and Program on Prosocial Behavior have released findings from a nationwide, scientific survey that examines Eagle Scouts in comparison to other Scouts as well as non-Scouts.
The central question of this study was to determine if achieving the rank of Eagle Scout is associated with prosocial behavior and development of character that carries over into young adulthood and beyond.  With funding from a major two-year research grant from the John Templeton Foundation, allowed Baylor researchers to partner with the Gallup Organization to conduct a nationwide random survey of 2,512 adult males.
Analyses were conducted to see whether three groups of survey respondents – Eagle Scouts, Scouts who did not achieve the Eagle Scout rank, and non-Scouts – differed in responses to a series of survey questions related to the following topics: Well-being, Civic engagement, and Character development
The Baylor study found that Eagle Scouts – compared to Scouts who never attained the rank of Eagle Scout and men who were never Scouts – were significantly more likely to:
Exhibit higher levels of participation in a variety of health and recreational activities;
Show a greater connection to siblings, neighbors, religious community, friends, coworkers, formal and informal groups and a spiritual presence in nature;
Share a greater belief in duty to God, service to others, service to the community and leadership;
Engage in behaviors that are designed to enhance and protect the environment;
Be committed to setting and achieving personal, professional, spiritual and financial goals;
Show higher levels of planning and preparedness; and
Indicate that they have built character traits related to work ethics, morality, tolerance and respect for diversity.
The full study – "Merit Beyond the Badge" – can be downloaded at HERE.
Byron Johnson is Distinguished Professor of the Social Sciences at Baylor University, where he directs the Baylor Institute for Studies of Religion as well as the Program on Prosocial Behavior.  Sung Joon Jang is associate professor of sociology and a resident scholar at ISR.  Young-Il Kim is a post-doctoral scholar at ISR. The Baylor Institute for Studies of Religion is an academic think-tank that specializes in social research and public policy analysis on religion.