Does the faith-based sector have an important role to play in public health?  Yes, say Jeff Levin and Jay Hein of Baylor University's Institute for Studies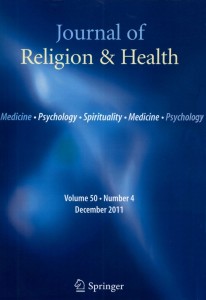 of Religion.  In an article published in the latest issue of the Journal of Religion and Health, Levin and Hein recommend that the U.S. Office of the Surgeon General draw on personal and institutional faith-based resources to fulfill its mission and that of the Surgeon General of the United States.  The Obama Administration's Office of Faith-Based and Neighborhood Partnerships has already taken up this call, and is working closely with agencies within the Department of Health and Human Services.
Levin and Hein specify five ways, in particular, that the Surgeon General can productively partner with religious organizations and leaders to promote health and prevent disease.  These include (1) participating in public information campaigns that raise risk awareness and change harmful behaviors; (2) working in tandem to identify public health needs and eliminate health disparities in underserved populations; (3) developing new sites for delivering preventive healthcare; (4) joining forces to strengthen the national resolve to bolster the public health infrastructure; and (5) coordinating efforts to meet the nation's global health responsibilities.
Levin holds a distinguished chair at Baylor, where he serves as University Professor of Epidemiology and Population Health and director of the Program on Religion and Population Health.  Hein is Distinguished Senior Fellow at Baylor and President of the Sagamore Institute for Policy Research and served as Deputy Assistant to the President and director of the faith-based office in the Bush Administration.  The Baylor Institute for Studies of Religion is an academic think-tank that specializes in social research and public policy analysis on religion.