ACE (Association of Christian Economists) 25th Anniversary Conference: Three Perspectives on Economics & Faith
Thursday, April 16- Saturday, April 18, 2009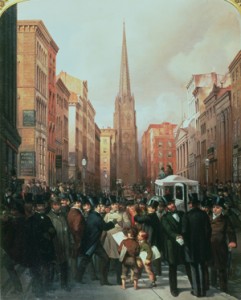 For twenty-five years, the Association of Christian Economists has encouraged Christian scholars to explore and communicate the relationship between their faith and the discipline of economics and to promote interaction and communication among Christian economists. This anniversary conference will celebrate and continue that tradition.
The conference is organized around three scholarly perspectives in the integration of faith and economics. These perspectives have figured prominently in the quarter century of conference presentations and journal articles published in Faith & Economics by the Association of Christian Economists.
Faithful Economics

Incorporation of topics informed by religious values and presuppositions into mainstream economic analysis and research. This includes areas such as poverty, health care, migration, the environment, etc. Faithful economics involves "widening the mainstream."

Economics of Religion

Application of mainstream techniques of economics to the study of religion and the impact of religion. The rational choice model of decision-making is central to the economics of religion. Topics include the organization and function of religious organizations and religious markets, as well as the effects of religious beliefs and practices on economic and social outcomes.

Heterodoxy

The critique of mainstream economics from Christian perspectives. Dominant traditions in economics that are critiqued include the rational choice model, utilitarian underpinnings of the discipline, and aspects of the use of econometrics. Heterodox economists tend to favor models of economic agents as moral decision-makers with differing amounts of economic power and a wider use of historical economics as a method of empirical validation.
For each of these themes there will be a plenary speaker. There will also be a plenary closing panel discussion for each of the themes.
Please direct inquiries about the conference to:
Dr. John Pisciotta
Department of Economics
Baylor University
One Bear Place #98003
Waco, TX 76798-8003
(254) 710-6224
John_Pisciotta@baylor.edu